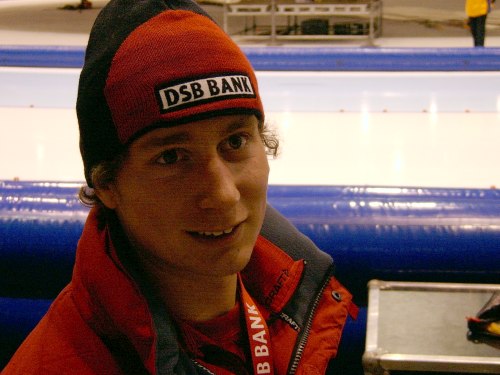 Yep, het langebaan schaatsen gedaan voor Alexis Contin... Dat bericht staat te lezen op skatepodium. Hij vond dat hij niet genoeg progressie maakte. (
bron
)
Dan rest er nog de vraag of hij terug naar het skeeleren komt. Volgens wat Renee Hildebrand op haar blog schrijft lijkt het er in ieder geval op. U kent ze vast nog wel de Amerikaanse trainster die niet goed genoeg was (is), maar toch volk blijft trekken... wat een dommeriken bij zo een slechte trainster gaan!!
Hier
vind je haar blog en hieronder een stukje...
"I planned to post a blog while the skaters from Belgium were here, however, we were having so much fun and training so much, I didn't even have time to get on the computer. Over the next few months, many skaters will be coming to train with Team Florida and the Skateworld Sprinters.
Our first two foreign skaters arrived on Christmas Day and just left on Saturday and we skated all but one day they were here. Jens and Jore were both members of the 2007 Jr World Team for Belgium and competed at the 2007 World Championship in Cali, Colombia. Jens and Jore left on Saturday and on Friday night I picked up two European Senior Ladies, Britta from Belgium and Maurine from Holland who will be here for 3 weeks to train with us. We also have 10 year old Helena from Brazil back again this year to continue to develop her skating skills. She has improved a lot from last year and will be here most of January to train with Team Florida. On Saturday morning at WestPort, we had four countries represented: US, Brazil, Belgium and Hollan!!

The first week of February some Team Florida skaters will travel with me to Belgium to do a week long clinic there and two Senior Men will return home with me. Alexis Contin from France and Sander de Graaf of Holland will be here through March preparing for the 2008 World Championship in Gijon, Spain. During that same time, most of the German Jr World Team will be here training as well. When other skaters come here to train, it raises the level of intensity at practice and helps our team to get better and become more experienced racers."
Gene paniek, die mensen weten er niks van, jullie zijn goed bezig!!!
Bill Begg heeft nog meer
nieuws
over de verschuivingen in de WIC teams...
Voor de kleine Swings... morgen is het van dat!!!!
One tree hill, baby!!!
2 uur durende show!! YIHA!!!!! (eigenlijk kijk ik daar ni naar ze... voor den Bart :-) )
Greets